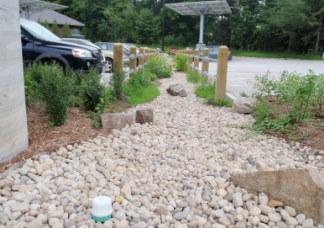 Initiated in 2010, this study evaluates the performance of a bioretention cell that drains a 2,061 square metre parking lot at the Earth Rangers Centre in Vaughan. Constructed in accordance with specifications provided in the Toronto and Region Conservation Authority (TRCA)/Credit Valley Conservation (CVC) Low Impact Development Stormwater Management Planning and Design Guide, the bioretention cell was monitored and evaluated by STEP researchers. A monitoring chamber and wells were installed by Earth Rangers in order to facilitate monitoring of the practice. The primary objectives of the study are to:
assess the water quality performance of the bioretention system;
assess the hydrologic performance of the bioretention system and the potential to mimic pre-development water balance;
evaluate changes in performance over time, both seasonally and over the life of the system; and
assess the need for and effectiveness of maintenance activities.
Results of the evaluation will be used to develop or refine policies and guidelines on the appropriate use and design of bioretention for parking lots and low to medium traffic roads.  A final report is now available for download on the right side bar.